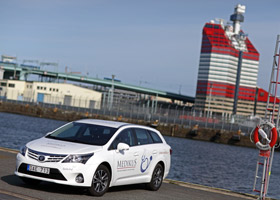 Sometimes it can be difficult to find time for everything at work. Our mobile clinic could be the solution!
We have mobile equipment and would be happy to come to your workplace. 
We can conduct health checks and vaccinations.
A smooth, fast and secure alternative.

HEALTH CARE AT YOUR WORKPLACE
We offer you and your co-workers the best possible care and ensure that we always give our patients a friendly, professional reception. On our first visit, we perform a detailed health check in which we create health profiles for all your co-workers.
Our health check includes a medical examination, blood pressure measurements, a resting ECG, Hb (haemoglobin) values, vision and hearing tests. In addition to our standard medical examination, we can offer an extended health check for people aged 40 and over or those that exercise a great deal. We conduct blood tests for prostate cancer, PSA, in men aged 50+, while women aged 50 and over undergo a thyroid hormone test, TSH.
All the samples and tests that are conducted form the basis of each individual co-worker's health profile. Our advice and recommendations are based on the different health profiles and the tests are followed up continuously or when necessary, depending on the circumstances. By performing these health checks at your company, you save time and you avoid having to book appointments at our clinic. We quite simply offer you top-class health care at your company and our aim is to ensure that your corporate health is as good as it can possibly be.

CONTACT US
Medikus is able to offer your company top-quality health care thanks to our dedicated staff and their broad-based collective experience. We also issue health certificates for different occupations and leisure interests. Please contact us for more information about our health checks at workplaces by calling 46(0)31 40 27 28 or sending an e-mail to: info@medikus.se You can also complete our contact form on the right-hand side of this page and we will then contact you at our earliest opportunity.