We offer two health check variants.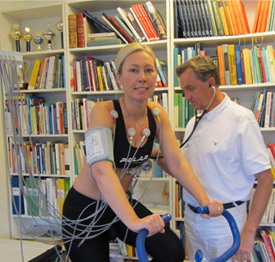 Health check
Medical examination, blood pressure, resting ECG, pulmonary function, vision, hearing and blood tests, which comprise Hb (haemoglobin) values, blood sugar, liver function and cholesterol.
Extended health check
We can also offer an extended health check. In addition to the content of the standard health check, this one also includes a physical fitness check using a bicycle ergometer test and a simultaneous electrocardiographic exercise test (exercise ECG). The function of the heart under physical stress is evaluated while cycling, accompanied by an ECG. Fitness values and oxygen uptake capacity are calculated. A blood sample for prostate cancer is taken (on men aged > 50).
We can also perform health checks at your workplace.
In the event of cancellations less than 24 hours before an appointment, half the fee will be debited.
If an appointment is missed, the full fee will be debited.